reduction in spreadsheets used for compensation tracking and management
elimination of IT and travel costs for IT support, infrastructure, consulting, and comp reviews
costs saved by corrections of rounding errors in formulas
drop in need for HR support by enabling employee and manager self-service
Benefit from a decade of experience in compensation management for financial services
We took our years of proven experience in designing and implementing compensation management technology for Fortune 500 financial services clients and delivered it in an innovative and focused solution designed to handle the dynamic and sophisticated compensation processes of financial services organizations.

beqom is used by leading FS companies worldwide across all sizes and sectors, including Investment Banking, Retail Banking, Private Banking, Asset Management, Wealth Management, Private Equity, Fintech, and other FS activities.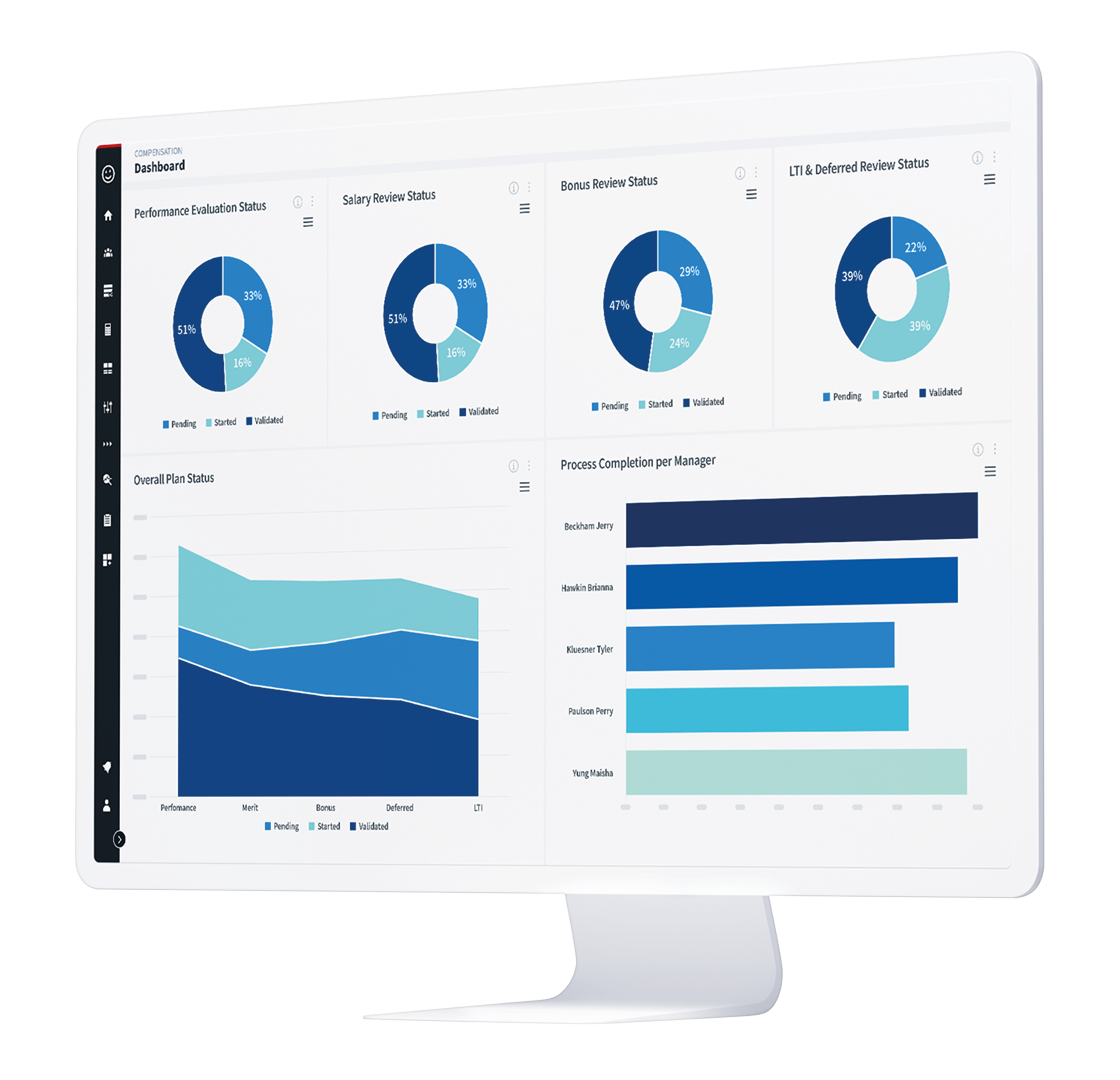 Complex budgeting & org management
Salary / bonus pool budget allocation
Multi-matrix hierarchies and security setup
Compensation accrual management
Compliance, security, and reduced risk
Audit tracking
Compensation committee reporting
Regulatory Identification and compensation management
Empowering managers and employees
Manager self-service (team and individual views)
Employee self-service and elections
Individual compensation planning
Total Rewards dashboards, statements, compensation communication sheets
Designed to handle financial services complexities
Market data matching and benchmarking with peer groups
Deferred compensation grant and administration
Carried interest
Malus, clawbacks, risk adjustment
Analytics and intelligent decision support
Compensation analytics
Pay equity analysis
Intelligent recommendation engine
Automatic multi-currency management
Employee multi-currency management
Multi-currency comp planning
Multiple FX rates management
Why trust your strategic process to anything but the best?
beqom FlexFS provides you with:
Best practices.
FS comp best practices packaged in one easy-to-use and easy-to-set-up solution.
Transparency.
True compensation transparency thanks to one centralized solution.
Flexibility.
A flexible and agile environment to change with the times.
Security.
A platform that follows the latest GDPR, SOC, and ISO regulations to ensure data security and privacy.
Auditability.
Built-in compensation audit tracking and reporting for internal and external governance.
Fair pay.
Rule-based, automated, recommendation engine removing unconscious bias in comp decisions.
Cost control.
Visibility, consistency, and analysis to ensure compensation cost-effectiveness.
Compliance.
Traceable and transparent processes and approvals, supporting audits and regulatory compliance requirements.
Automation.
Digitally automated processes that ensure accuracy, speed, and efficiency.
Centralization of data.
beqom integrates natively with the systems that tie to compensation management, such as HRIS, ERP, CRM, and Finance systems.
Want to learn more?
Speak to a Performance and Reward Optimization Expert 1:1